Welcome to Hanoi Baduk Club
Brief Introductions
Baduk game is an interesting artistic sport. It helps players to develop ways of thinking, spirits, strategies and also to fertilize ideas and knowledge. In the past, Baduk was played inVietnam as well as many other Eastern countries, which were influenced by the civilization of China. Nowadays, Baduk has become international and Baduk was called as "Goin English. The three largest countries in Baduk are China (weiqi), Korea (baduk) and Japan (igo), which have a lot of first-class players in Baduk.
In Vietnam, after many years of interruption, since 1994, some chess players in Hanoi started to recover Baduk game, experienced its attractions, and wanted to popularize Baduk game to other chess players. They carried out some propagative activities such as teaching Baduk at Universities, high schools, students Baduk Clubs However, the results were not as expected.
In the late 90s, Baduk game in Hanoi had a big step forward with the birth of the Exchange Baduk Club at 86 Au Co Street. The Club was established by Mr. Ishihara Akira, his students and Miss Phan Thi Thu Lan.
Thanks to the Exchange clubssuccess, the Hanoi Baduk Club has been established with the helps of many high level Baduk players. The club, which has been more and more grown up in size and level, attracts a large number of members.
In 2006, to response to the cooperation proposal from the leadership of club community, Vietnam-Russia Culture Palace and the expectation from Baduk young fans, the Club opened another new branch within Vietnam-Russia Culture Palace at No.2 Yet Kieu street, Hanoi.
And in 2008, with the financial support from HanViet Foundation, an international non-governmental organization and Hansae company from Korea, Hanoi Sports Office decided to establish Hanoi Baduk Club with modern facilities at QuanNgua Sports Complex, Hanoi (briefmap see bellow)
Opening day, Jan, 24th 2008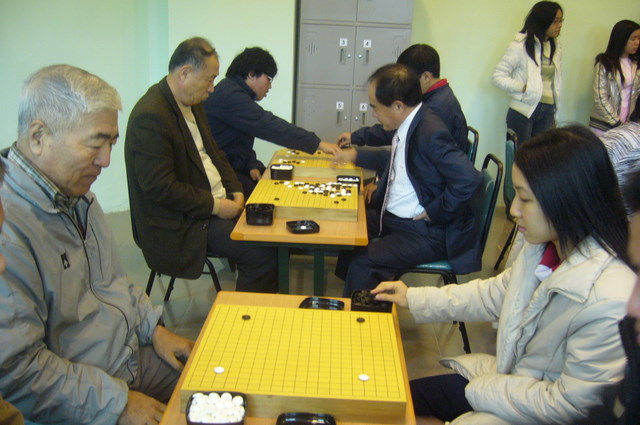 Teacher Miyata Takashi 5D (amateur) play with Tran Thanh Mai, piano student and baduk player
Aims and targets
With the current size, the managers of the club deeply understand that in order to maintain and develop, the club needs to have order and discipline, as well as interesting activities to attract more members.